Chair's Message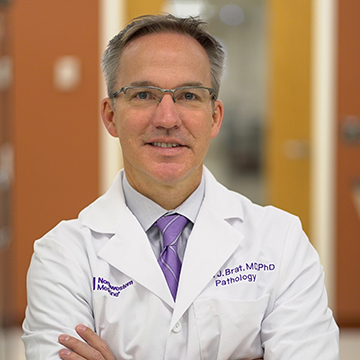 Daniel J. Brat, MD, PhD
Magerstadt Professor and Chairman
Department of Pathology, Northwestern University, Feinberg School of Medicine
Pathologist-in-Chief, Northwestern Memorial Hospital
Welcome
Welcome to the Department of Pathology at Northwestern University Feinberg School of Medicine!
Set in the heart of downtown Chicago, between the shores of Lake Michigan and the Magnificent Mile of Michigan Ave, our Feinberg School of Medicine, Northwestern Memorial Hospital and Lurie Children's Hospital offer a spectacular location and environment for clinical care, investigation and education.
Our Department has the shared goal of advancing the practice of Pathology to benefit patient care, while at the same time pursuing a greater understanding of disease through investigation, mostly though laboratory-based methods. We are a large, diverse and talented faculty within three major Divisions, albeit with major interfaces and overlaps: Anatomic Pathology (AP), Clinical Pathology (CP) and Experimental Pathology. As you dig deeper into our Department, you will see we are highly sub-specialized in our medical sub-specialties, clinical services and laboratory testing, and that we have translational and scientific expertise that cover a wide range.
Our faculty are deeply engaged in the education and mentoring of medical students within the first two years, and many serve in leadership roles. We also encourage students to spend time in our Department for a 2 week selective, or a 4 week elective or for their Area of Scholarly Concentration, in order to become more familiar with the practice of Pathology and its substantial impact on clinical care, both in establishing a diagnosis and in lab management. MD/PhD students often gravitate towards Pathology, since our discipline is so academically inclined.
We have outstanding training programs in Pathology that include a highly competitive Anatomic and Clinical Pathology Residency, a Physician Scientist Training Program (PSTP), and a wide variety of sub-specialty Fellowship Programs in AP and CP. Our faculty with research programs provide an investigative environment for the training of medical and graduate students, and post-doctoral fellows in many areas of investigations, but with areas of strength in cancer, inflammation and immunity, cell biology and neurodegenerative disease. We have a T32 training grant within the Department focused on Carcinogenesis.
Please spend some time reviewing our website and then plan a visit to our Department or reach out to one of us learn more. We think you will be impressed.
Our Vision
The vision of Department of Pathology at Northwestern University Feinberg School of Medicine is to be a nationally visible and vibrant academic department that:
Incorporates advanced laboratory and diagnostic technologies and platforms that define and advance the standards of patient care
Attracts and retains the most talented and creative trainees, faculty and staff
Provides a setting for laboratory-based science to flourish for a deeper understanding of disease
Maintains a culture that values teamwork, safety, innovation, lifelong learning and professional growth and development