The Hematopathology specialty within the Department of Pathology is headed by Yi-Hua Chen, MD. The faculty members within the specialty are actively involved and well recognized in hematopathology at local, national and international levels. The hematopathology section includes the hematology laboratory, the bone marrow laboratory, solid tissue hematopathology and flow cytometry. It is also closely integrated with the cytogenetic/FISH laboratory and the molecular diagnostics service.
Education
The Hematopathology Residency rotation and the Hematopathology Fellowship program offer the opportunity to learn the diagnostic, prognostic and consultative applications of Hematopathology in a variety of specimen types. The educational programs include flow cytometric immunophenotyping, immunohistochemistry studies, cytogenetic/FISH analysis and molecular diagnostic testing. The volume, breadth and scope of interesting cases, exposure to a variety of specimen types and preparations, interactions with the Hematology Oncology clinicians and the teaching interest, expertise and experience of the Hematopathology faculty are strengths of this program. Several faculty members recognized for their expertise in hematopathology participate in educational programs in the United States and internationally. The faculty is also involved in medical student teaching, including rotations in the laboratory, small-group sessions and lectures.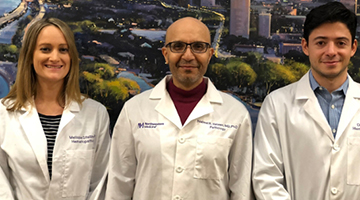 Research
Faculty members are actively involved in clinical and translational research, including collaborative studies, and have publications in highly recognized journals.
Patient care
The Hematopathology specialty is an integral part of the diagnosis and therapy of patients with benign and malignant hematologic disorders. The Robert H. Lurie Comprehensive Cancer Center of Northwestern University, is an NCI-designated comprehensive facility for the treatment and research of neoplastic disorders. The hematopathology faculty provide consultation to all faculty, but work most closely with the Hematology/Oncology section. The specialty evaluates a wide variety of specimen types, including peripheral blood, bone marrow aspirates and core biopsies, body fluids, lymph nodes and other solid tissue biopsies. Interpretation includes immunohistochemistry, flow cytometric immunophenotyping and correlation with cytogenetic/FISH analysis and molecular studies. The director is medical director of the hematology laboratory, and the faculty are closely involved in the laboratory, including blood smear consultation and hemoglobin electrophoresis.