The Transfusion Medicine section of the Department of Pathology provides medical consultations for transfusion practice, patient blood management and immunohematological testing. The transfusion medicine faculty teach medical students and trainees and conduct collaborative, clinically focused research in transfusion medicine. Faculty members provide medical leadership for the transfusion services at Northwestern Memorial Hospital (NMH) and Ann & Robert H. Lurie Children's Hospital of Chicago, contribute to interdisciplinary patient care conferences and present educational lectures in the medical center and in regional and national conferences.
Education 
Pathology resident training begins with bench testing and progresses through immunohematology and blood groups, compatibility testing, autoimmune hemolytic anemias and antibody evaluations. Residents become familiar with blood component therapy indications, perioperative blood management, transfusion reaction evaluations and hemolytic disease of the newborn. In advanced-level rotations, residents assume more graduated responsibilities and receive training in apheresis, HLA testing, stem cell processing and blood donor collections. Educational opportunities for medical students and trainees in other disciplines are also provided. An accredited fellowship program in transfusion medicine begins in 2019.
Research
Faculty publications contribute to a broad range of knowledge in transfusion medicine, including transfusion practice guidelines, disaster preparedness, blood group molecular phenotyping, immunohematological problems and applications of hemostasis testing for transfusion guidance. Investigational projects are regularly presented at regional and national meetings. Faculty members serve on expert committees of national blood banking and pathology associations.
Patient Care and Consultations
Residents and faculty are on call at all times for laboratory and clinical consultations in transfusion medicine. This includes blood transfusion indications and immediate support as needed for transfusion reactions, emergency transfusions and special transfusion needs. Medical review and consultative reports are provided for patients with immunohematological problems, transfusion reactions, emergency transfusions, platelet refractoriness evaluations and other problems. RBC blood group genotyping and RhD gene variant identification is performed routinely in the NMH transfusion service.
Contact Us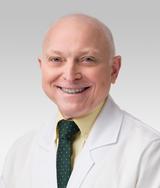 Professor of Pathology (Transfusion Medicine) and Pathology (Hemostasis)
Medical Director, Transfusion-medicine
g-ramsey( at )northwestern.edu