The Cytopathology specialty within the Department of Pathology is directed by Ritu Nayar, MD. The faculty includes five board-certified cytopathologists who are actively involved in clinical service, education, translational research and well-recognized in Cytopathology at the local, national and international levels. The faculty members practice predominantly in this area; however, many also participate in subspecialty sign out in surgical pathology. At Northwestern Memorial Hospital, Cytopathology plays a very significant role in the diagnosis and management of patients, in collaboration with interventional radiologists, pulmonologists, gastroenterologists, oncologists, surgeons, internists, gynecologists, endocrinologists and otolaryngologists.
Education
Cytopathology offers two, one-year, highly competitive ACGME-accredited fellowship slots. Pathology residents have four months of training in Cytopathology. The residency rotations and cytopathology fellowship program offer the opportunity to learn the diagnostic and prognostic applications of cytopathology in a variety of specimen types including gynecologic and non-gynecologic samples, as well as fine-needle aspirates and core biopsies of deep-seated organs and superficial masses. An organized daily teaching curriculum is in place and an extensive glass slide teaching collection is available for residents and fellows. The volume, breadth and scope of interesting cases, exposure to a variety of specimen types and preparations, experience in performing ultrasound guided FNAs, a multidisciplinary approach to diagnosis, the teaching expertise and vast experience of the faculty are strengths of this training program.
Cytopathologists are also closely involved with teaching M1 and M2 medical students, including lectures in the integrated curriculum as well as supervising them on elective pathology rotations.
Research
Cytopathology faculty members are actively involved in translational research, development of consensus reporting terminology/management guidelines and are widely published and cited in the pathology/medical literature. They have published several collaborative studies, including those with direct relationship to improved patient care, with physicians and trainees in surgery, otolaryngology, radiology and obstetrics and gynecology. The Robert H. Lurie Cancer Center of Northwestern University is an NCI-designated comprehensive facility for the treatment and research of neoplastic disorders, which along with the Pathology Core Facility provides ample opportunity for research support and collaborations.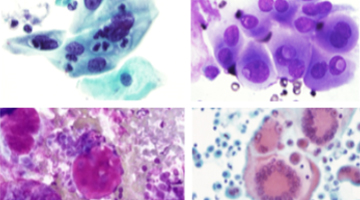 Patient Care
The annual volume is approximately 40,000 (25,000 gynecologic and 15,000 non-gynecologic that includes 4,500 fine needle aspirations/many with corresponding core biopsy specimens that are also diagnosed by Cytopathology and 500 consults). Immunocytochemistry, flow cytometry, molecular diagnostics, liquid-based and automated cytology, high-risk HPV testing with genotyping are regularly utilized. On-site evaluations for adequacy and triage are routinely provided by faculty, trainees and cytotechnologists for radiology, bronchoscopy and gastroenterology biopsies in order to optimize patient care. Integrated reports, consistent with standardized reporting terminology that is linked to management guidelines, are provided to clinicians.