The Breast Pathology subspecialty area within the Department of Pathology is headed by K.P. Siziopikou, MD, PhD. The faculty who specialize in Breast Pathology are experts in the evaluation of common and rare benign and malignant conditions of the breast and are recognized at the local, national and international levels. Breast Pathology plays a central role in the multidisciplinary care of patients with diseases of the breast, and an accurate, state-of-art diagnosis is the cornerstone of any further evaluation and therapeutic management of the patients.
Education
The Breast Pathology Program is designed to offer comprehensive Breast Pathology services, including state-of-art diagnosis, immunohistochemistry and molecular diagnostics. Breast Pathology faculty are committed to the academic mission of Northwestern University Feinberg School of Medicine. Breast Pathology Didactics, Unknown Slide Reviews and Fellows' Journal Club are offered to residents and fellows year-round. Two multidisciplinary conferences (Breast Tumor Board and Breast Pathology/Breast Radiology Conference) are offered every week.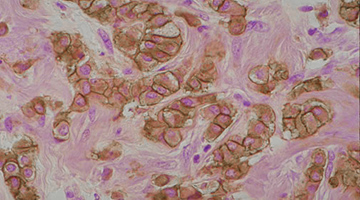 Research
Members of the Breast Pathology faculty are actively involved in several funded basic science, translational and clinical research studies at Northwestern University, Northwestern Memorial Hospital, the Robert H. Lurie Comprehensive Cancer Center of Northwestern University and at the national level.
Patient Care
The Lynn Sage Breast Cancer Center of the Robert H. Lurie Comprehensive Cancer Center of Northwestern University is one of the largest referral centers in the Midwest for patients with diseases of the breast. Expert breast cancer care is one of the areas of excellence of the institution. Breast Pathology faculty annually evaluate almost 1,000 breast pathology second opinion consult cases, as well as more than 5,500 in-house specimens that consist of all breast needle core biopsies performed at the Lynn Sage Breast Imaging Center, all large breast specimens generated by our breast surgeons and all frozen sections (on breast and gynecologic specimens) requested by the surgeons at Prentice Women's Hospital. Immunohistochemistry and molecular breast tumor marker studies are routinely integrated into the everyday practice.