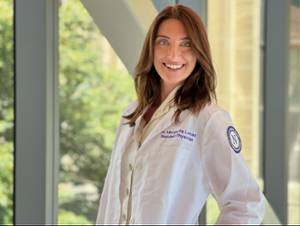 Name: Margarita Loxas, MD
Hometown: Hammond, IN
Med School: Creighton University School of Medicine
Why Northwestern?: I felt like Northwestern had a really great balance of providing trainees with a broad spectrum of cases, from various levels of difficulty, benign and malignant, etc., without the residents being too overwhelmed with work. Plus, I really connected with all the residents and faculty that I had spoken with on the interview trail and had a gut feeling that it was going to feel like home here -- I was right!
When Not Behind the Scope: Grossing, obviously ;) Just kidding, I'm either walking my dog Archie, watching Survivor, or talking somebody's ear off.
Advice for Match Applicants: Trust your gut!!! I spent so many hours trying to justify my instincts by talking to so many residents from each program but at the end of the day, deep down, trust that you'll know where you want to end up (and that everything will end up working out no matter what).
Fun Fact: During college I had the opportunity to shadow a pathologist and the first slide I ever saw was of Barrett's esophagus. I was so impressed by the cells' resilience and ingenuity that I've been hooked on pathology ever since. I'm even currently in the process of writing a children's book about metaplasia (nerd alert)!
Name: Adil Menon, MD (PGY-2)
Why Northwestern? 
The short answer I can give to the question of why Northwestern is people.  The first shape this takes is in the supportive environment. From even before I interviewed everyone representing the institution were stand out examples of kindness and personalized concern. This has only become more the case as my time at the program has lengthened. The individuals who make up the department are exemplary not only in their attitudes but their professional caliber as well. A mountain with a deity need not be tall and a lake with a dragon need not be deep; true quality always shines through. While universally humble our attendings are leaders and luminaries within their fields and yet take the time to deeply invest themselves in our education. The fact that so many of our residents stay on as fellows speaks not only to their conviction that Northwestern is a phenomenal place to train but also a desire to contribute to the academic legacy that provides us so much. The final major attraction of Northwestern is the city of Chicago. Having lived here both for college and as a resident I can say that Chicago is a wonderful city. Whether your interests lay in art, music, or food, you will be very happy here. 
Name: Joseph Reznicek, MD (PGY-3)
Why Northwestern? 
At Northwestern, we provide excellent pathology services at a nationally ranked hospital in one of the best cities in the world.  Training at Northwestern has let me have exposure to a wide variety of anatomic and clinical cases, as well as participate in numerous teaching and research opportunities.  Additionally, we have a great camaraderie among our residents, and we have amiable relationships with faculty and staff.  Looking back, I cannot picture myself training anywhere else.