Clinical Chemistry is a discipline of Clinical Pathology that is devoted to analysis of bodily fluids, especially blood and urine. Methods used in the Northwestern Memorial Hospital (NMH) Clinical Chemistry Laboratory include centrifugal, spectral, electrochemical, chromato-graphic, electrophoretic and immunologic techniques.
Education
During their training, Pathology residents rotate through the Clinical Chemistry specialty for no less than two months. During their time in the specialty, residents have bench assignments and meet regularly with medical director Greg Retzinger, MD, PhD, for both didactic sessions and patient care rounds. A host of topics pertinent to the discipline are covered, including appropriate utilization of tests, divisional quality assurance, proficiency testing, new test validation, instrument evaluation and purchase and basic principles applicable to organ- and/or disease-specific testing.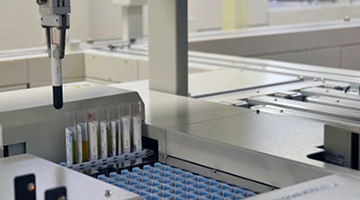 Research
The Clinical Chemistry specialty of the NMH Clinical Laboratory serves as the central testing facility for a number of extramurally funded research projects, including both national and international ones. The specialty also routinely serves as a beta testing site for some of the newest technologies being applied to analysis of patient samples.
Patient Care
Testing done in the Clinical Chemistry specialty of the NMH Clinical Laboratory is used to monitor the levels of hundreds of different health- and/or disease-related analytes. Because the Clinical Chemistry Laboratory analyzes large numbers of patient samples, it is highly automated. Exceptional quality control is characteristic. Data generated in the clinical chemistry laboratory are used to monitor a patient's health status, disease progression, drug levels and response to treatment.