General Surgical Pathology
The Department of Pathology faculty members who specialize in surgical pathology focus on education, research and Feinberg-affiliated clinical services related to the definitive diagnosis of disease in any case where tissue is surgically removed from a living patient. Two main types of surgical pathology specimens include:
Biopsies: small pieces of tissue and characterized as core biopsies (obtained through a large bore needle under ultrasound or imaging guidance)

Incisional biopsies: removal of a small part of the suspicious lesion
Excisional biopsies: removal of the entire suspicious lesion

Surgical resection: specimens are obtained by the surgical removal of the entire diseased organ or region (may include several organs)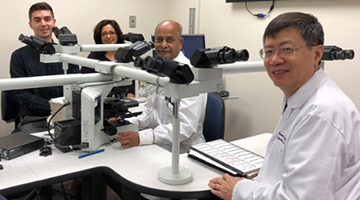 The practice of surgical pathology is usually a combination of gross (visual or macroscopic) and microscopic examination of tissue and may also involve cutting-edge techniques or state-of-the-art molecular and genetic laboratory tests to evaluate the properties of the tissue and disease. Surgical pathology analysis of these biopsy and surgical resection specimens is the gold standard to confirm a diagnosis and stage the extent of malignant disease.
The other major function of the surgical pathology specialty is to perform rapid intraoperative consultations (frozen sections) to assist surgeons in charting the proper course during surgical procedures. Examination of the fresh "frozen section" specimens helps to provide a rapid microscopic analysis of the specimen, to establish whether the entire area of disease has been successfully removed during surgery (examining the margins of the frozen section) and to guide the progression of the surgical procedure.
Education
We provide training opportunities for pathology residents in histopathologic diagnosis and stage of various disease or systemic surgical pathology. Post-residency fellowships in surgical/gastrointestinal pathology, breast pathology and genitourinary/renal pathology are available to offersmore extensive training in each subspecialty pathology. We also have opportunities for medical students who wish to pursue educational experiences in pathology.
Research
Faculty in this specialty conduct wide spectrum of research, mainly focusing the translational research and clinical research.
Patient Care
Our surgical pathology faculty reflects the various subspecialties of our highly qualified, board-certified pathologists. Subspecialization allows for increased experience and skill for the interpretation of challenging cases. Areas of extensive experience and subspecialization include: breast pathology, cardiac pathology, gastrointestinal/hepatic pathology, genitourinary/renal pathology, gynecologic/reproductive pathology, perinatal pathology and thoracic/soft tissue/endocrine pathology.