Genitourinary Pathology
NOTE: We have an immediate opening for the Genitourinary Pathology ASTP Fellowship for the 2023-24 academic year. Please submit application material to Tyler Sutton at tyler.sutton@nm.org to be considered.
We are also still accepting applications for the 2024-25 academic year.
The Department of Pathology offers a one-year position in the Advanced Specialty Training Program (ASTP) in genitourinary pathology. The candidate will be offered a junior faculty position at the rank of instructor (non-tenure eligible) in the Department of Pathology at Northwestern University Feinberg School of Medicine.
The program is designed to provide comprehensive training in diagnostic GU pathology, including standard diagnostic practices. In addition, the program offers focused training in digital pathology, general surgical pathology, and frozen section service. The primary training site, Northwestern Memorial Hospital, is situated in downtown Chicago and is one of the premier referral medical centers in the Midwest for patients with urologic diseases, with 17 full-time urologists on staff. The fellow will have the opportunity to join our digital pathology team (Dr. Lee Cooper, Dr. Ashley Ross, Dr. Ruoji Zhou and Dr. Ximing Yang) for the exciting ongoing research program on digital analysis of prostate and other GU conditions.
More than 4,000 GU cases are evaluated in surgical pathology annually, including 500 prostatectomies and 1,000 in-house prostate needle core biopsies. The fellow learns specialized techniques, such as immunohistochemistry, molecular diagnostics, in situ hybridization, tissue-microarrays, cDNA microarrays and flow cytometry.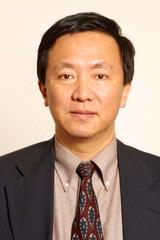 Program Director
Professor of Pathology (Genitourinary Pathology) and Urology
Clinical Experience
The candidate is expected to participate in the diagnosis of GU specimens from a wide range of benign and malignant urologic conditions and interdepartmental clinical conferences. In addition, ample opportunities are available for scholarly collaborations in all areas of GU pathology, including collaborations with investigators from the Robert H. Lurie Comprehensive Cancer Center of Northwestern University. 
As a junior faculty member in the Department of Pathology, the ASTP instructor will be granted the privilege of independently signing out surgical pathology and frozen section cases and participating in on-call process similar to the department's staff pathologists after an initial six-month observation period. Additionally, the ASTP instructor is expected to participate in interdepartmental clinical conferences and training of anatomic pathology residents. 
Eligibility and Requirements
Candidates must be board eligible or certified in anatomic pathology. Please note that ASTP Fellowships with Northwestern require credentialing through Northwestern Memorial Hospital, and therefore can only accept candidates that are US Citizens/Permanent Citizens or Green Card Holders.
Stipends
The stipend is commensurate with the appropriate PGY level. Find stipend information via the McGaw Medical Center of Northwestern University site.
Application Process
Submit the following documents via email to the Program Coordinator at gupathfellowship@northwestern.edu: 
Current CV
Personal statement
Three letters of recommendation