Medical and Public Health Laboratory Microbiology
Department of Pathology at Northwestern Feinberg School of Medicine welcomes applicants to the American Society of Microbiology (ASM)-accredited postgraduate training program in medical and public health laboratory microbiology.  The two-year program is open to postdoctoral-level candidates (e.g., Ph.D., M.D., Sc.D., D.O., and Dr. P.H.); however, Doctorate of Clinical Laboratory Sciences (DCLS) degrees and PharmD degrees are not acceptable for admission. Upon successful completion of the program, the trainee will be competent to direct clinical and public health microbiology laboratories and qualified for certification by the American Board of Medical Microbiology (Committee on Postgraduate Educational Programs of the American Society for Microbiology) in Medical and Public Health Laboratory Microbiology.
Participating laboratories include Clinical Microbiology Laboratory, Immunology Laboratory, and Diagnostic Molecular Biology Laboratory at Northwestern Memorial Hospital, Ann & Robert H. Lurie Children's Hospital Microbiology Laboratory, and Illinois Department of Health (IDPH) Laboratory Divisions in Chicago.
Program Information
Fellow training follows the guidelines provided by the ASM Committee on Postgraduate Educational Programs (CPEP). Education in clinical infectious diseases, infection control, antimicrobial stewardship, molecular epidemiology, and public health microbiology are included. Training activities are designed to help trainees progressively gain insights into the pathophysiology, clinical presentation, and therapy of infectious diseases and have deep understanding of the principles of diagnostic testing methodologies.
The program provides a variety of learning environments that allow fellows to use integrated knowledge of microbial pathogenesis, diagnosis, and management to solve clinical problems. Real-time case-based learning will be conducted during daily laboratory rounds. Fellows will have the opportunity to accompany the adult and pediatric infectious diseases consult teams on ward rounds once a week, actively participate in case assessment and management, and serve as expert resources to these clinical services.
The program requires qualified applicants with a doctoral degree (Ph.D., M.D., Sc.D., D.O.., Sc.D., Dr. P.H., D.V.M, etc.) with graduate education in microbiology or immunology. Completion of an ACGME residency is required for applicants with M.D. or D.O. Desirable prerequisites for the postgraduate training program may include some of the following - courses in epidemiology, immunology, microbiology, molecular biology, histology, pathogenesis of infection and statistics.
The program accepts one trainee every other year. The position has been filled for the 2023-25 academic year. Applications will be accepted starting June 2024 for the 2025-27 academic years. Applications should submitted via the ASM CPEP website.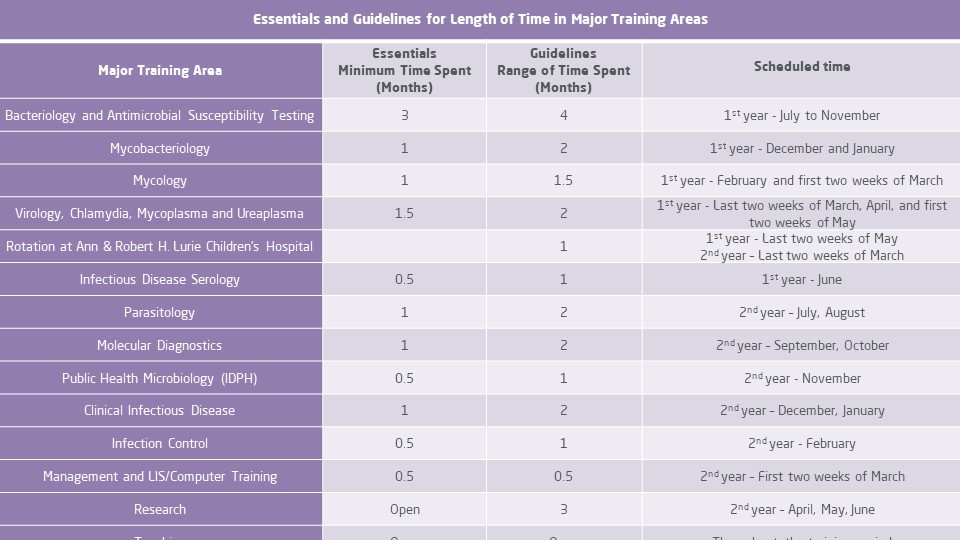 Program Leadership
Program Director
Chao Qi, Associate Professor of Department Pathology, the Director of Clinical Microbiology Laboratory at Northwestern Memorial Hospital. In addition to consulting medical staff in clinical microbiology and teaching residents and infectious diseases fellows, her clinical interests include advancing molecular pathogen detection, clinical application of rapid diagnostics, pathogenesis study of Mycobacterium avium associated respiratory infection, and Epidemiology study of multi-drug resistant pathogens. Her clinical research studies have generated more than 50 publications in the field of clinical microbiology. She is a member of American Society of Microbiology and Illinois Society of Microbiology.
Associate Program Director
Teresa Zembower is an Associate Professor of Medicine (Infectious Diseases) and Pathology, and is the Associate Director of the Clinical Microbiology Laboratory at Northwestern Memorial Hospital. In addition, Dr. Zembower is the Medical Director of Healthcare Epidemiology for Northwestern Medicine's Central Region, overseeing Infection Prevention and Antimicrobial Stewardship. In these roles, she teaches students, residents and fellows the principles and practices of infectious diseases, healthcare epidemiology and clinical microbiology. Her clinical and research interests focus on multidrug-resistant gram-negative bacteria, emerging pathogens and rapid diagnostics. Her clinical research studies have generated more than 60 publications. She is a member of several national professional societies including the Infectious Diseases Society of America (IDSA), the Society for Healthcare Epidemiology of America, ASM Microbe and the American College of Physician, serves on the IDSA Clinical Affairs Committee, and is on the editorial boards of the Journal of Clinical Microbiology and Clinical Microbiology Reviews.