Neuropathology faculty specialize in diagnosing diseases of the nervous system, including degenerative diseases, tumors, infections, malformations, and neuromuscular disorders.
Teaching
Neuropathology faculty are highly active in teaching, including didactic lectures for medical students and pathology residents, as well as "at-the-scope" teaching of trainees. Residents in pathology, neurology, and neurosurgery all spend a month on a Neuropathology rotation
Faculty are involved in a number of regular didactic sessions, including:
Weekly Brain Cutting Conferences
Weekly Neuropathology Quality Assurance Conference and case review
Weekly multidisciplinary Brain Tumor Board
Weekly multidisciplinary CNS Metastatic Tumor Board
Monthly Brain Cutting Conferences featuring cases of interest to Neurology and Neuroradiology residents and fellows
Monthly Neuropathology Journal Club
The Northwestern Neuropathology Division offers an outstanding, comprehensive, ACGME-accredited neuropathology fellowship program, including training in surgical neuropathology, neurodegeneration, neuromuscular pathology, pediatric/perinatal neuropathology, forensic neuropathology, and ocular pathology.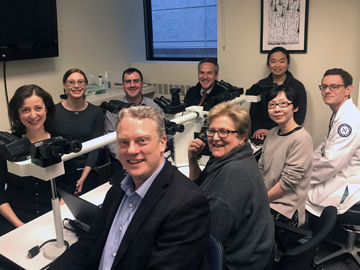 Patient Care
Our first responsibility is to our patients. We are one of a very few centers in the country who offers expert consultations in neurodegenerative cases, as well as in nervous system tumors and neuromuscular biopsies. Our faculty are contributors to the 2020 World Health Organization "Classification of Tumors of the Central Nervous System," the upcoming ninth edition of "Greenfield's Neuropathology," and were part of the 2019 Limbic-predominant age-related TDP-43 encephalopathy (LATE): consensus working group. We have state-of-the-art molecular diagnostics assays for tumor and neurodegenerative evaluation, including next-generation sequencing and genomic copy number profiling. Genomic methylation profiling is under development.
Instructions for how to submit cases for consultation can be found here.