Apply
The Pathology Residency Program accepts applications through the Electronic Residency Application Service only. The program and institution fully participate in the National Resident Matching Program.
For consideration, we require:
Current CV
Three letters of recommendation (at least one from a pathologist and one from a physician in a different specialty are preferred)
Official medical school transcripts
Medical Student Performance Evaluation (MSPE)
USMLE Step 1 score or COMLEX 1 score
ECFMG certificate (international applicants only; not required for interview but required by Match submission deadline)
Legal eligibility or ability to work in United States (U.S. citizenship, permanent residency, or valid visa). [Note: The program can sponsor J1 and H1B visas, and the applicant may choose which of these to pursue. Any candidates anticipating a need for a visa while in training must indicate on their ERAS application all options being considered ("Expected Visa/Employment Authorization Status" field); matched applicants will be limited to the options indicated on their application. For any applicants desiring an H1B visa, a Step 3 score is required by March 1st to allow for sufficient processing time.]
ERAS Interview Process/Timeline
All applications will be given fair consideration. Northwestern University does not discriminate on the basis of race, color, religion, national origin, sex, pregnancy, sexual orientation, gender identity, gender expression, parental status, marital status, age, disability, citizenship status, veteran status, genetic information, or any other classification protected by law.

Initial interview invitations will be sent by the end of September. Additional invitations will be sent in early October following review of Medical Student Performance Evaluations (MSPEs), which are released on October 1st. Following that, invitations will be sent on a rolling basis depending on remaining interview slot availability and cancellations.
We request that applicants respond (accept or decline) to interview invitations within two weeks of receipt, so that any unfilled slots can be offered to other applicants in a timely fashion.
Interviews are conducted from October through January. Interviews for the Physician Scientist Training Program (PSTP) are typically completed by early November, while interviews for non-PSTP residency positions typically continue through mid-January. Second look interviews are not offered.
Once accepted into the program, the Illinois licensure process begins. Trainees will not be able to start residency without a valid Illinois license.
Detailed information of housestaff benefits can be obtained from the McGaw Medical Center for Graduate Medical Education. For more information, contact raven.rodriguez@northwestern.edu.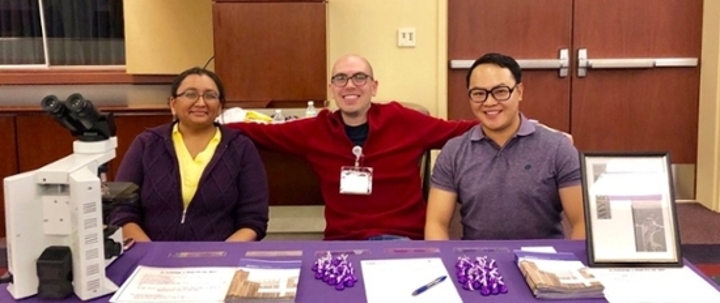 Pathology Physician-Scientist Training Program
The Department of Pathology offers a six-to-seven-year Physician-Scientist Training Program (PSTP) through Northwestern University's Starzl Academy. This program is designed for the MD/PhD or MD graduate with extensive research experience who is interested in a career in academic pathology and investigation.